Updating graphics drivers – PC
Why would I need to do this?
There are some circumstances where we need you to update your graphics drivers such as:
Low FPS in game
Graphical or Display issues
You're looking to improve your system's performance
How do I update my Drivers?
The first thing we need to do is identify what make and model of Graphics Card you have in your system. To do this, please follow the steps below:
Identifying your Graphics Card
Click the 'Start' button/Run
Type "DxDiag" (without the quotations) and hit enter
Click the display tab
Your graphics card make is shown next to "Manufacturer" highlighted in red in the image below
The model is next to "Chip Type" highlighted in blue in the image below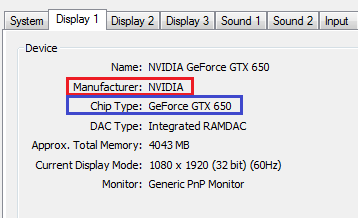 Updating your Drivers
Note - You will need full admin access on the computer in order to update your drivers
Visit the website of your graphics card manufacturer.
Search for your graphics card model & name.
Download graphics drivers.
Run the downloaded installer package.
Restart your computer.
I've updated my drivers, what now?
Now the driver update has completed and you have restarted your PC you are all set to go!
If after updating your drivers you're still having Display or FPS issues, I'd suggest checking our Recommended Specifications Page so you can check what performance you should expect from your system when playing RuneScape.
Having problems with these steps?