Client not appearing in Windows Volume Mixer
If you're not receiving any audio from the client, it's possible that your client is not appearing in your Volume Mixer.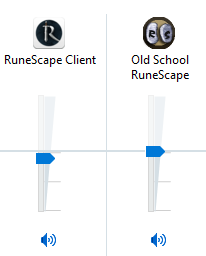 This can usually be resolved by changing the following audio settings:
Right click on the Volume icon on your Windows task bar and select 'Playback Devices'.
Double-click on the 'Speakers/Headphones' option, to open a properties window.
Click on the 'Advanced' tab and tick the box that says 'Allow applications to take exclusive control of this device'.
Click 'Apply' and then 'OK' to saves these changes.
Once that's all done, load up the client and make sure the client is appearing and that it's not muted.
DirectX
For the NXT client make sure you have installed the DirectX redistributable files from Microsoft.
Pending Updates
Check to see if you have any pending operating system or audio driver updates. If you do make sure they are installed.
STILL STUCK?