Turning on compatibility mode
Game Versions:
Compatibility mode
Compatibility mode allows older games to run on newer versions of Windows. Whilst this is not necessary for RuneScape or Old School, if you're having problems with the game loading properly or receiving the error code c0000409 try turning Compatibility mode on.
Please be aware that some players have reported increased performance issues after launching the client with compatibility mode. Despite its name, Compatibility mode may not perform well on every device, if this occurs then we recommend turning Compatibility mode off.
Turn on Compatibility mode for RuneScape
Open the RuneScape launcher
While the launcher is loading select the settings icon in the bottom left
From 'Graphics Mode', select 'Compatibility Mode'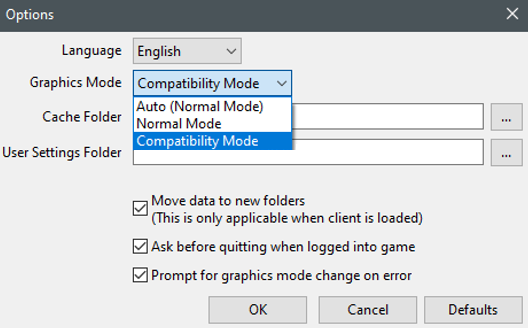 Turn on Compatibility mode for Old School RuneScape
Right click the Old School RuneScape desktop icon
Select 'Properties'
Hit the 'Compatibility' tab
Under 'Compatibility mode' check 'Run this program in compatibility mode'