Quick Chat allows you to message other players using a selection of pre-defined words and phrases, rather than typing your own text into the chat box (Think 'Autocorrect', but without the typos).
Quick Chat is fun and easy to use! It's also useful if you're unable to use Chat due to a mute, or other restriction.
Turn it on
Press the Enter button on a new line in the chat window, or select the 'Quick Chat' icon next to your name at the bottom of the chat window to access Quick Chat.
Turn it off
Press Esc on your keyboard, or select the 'X' to disable the function and return you to the public chat channel.
Auto populated list of terms
Once you have selected Quick Chat, your chat window changes to show a selection of chat categories. These open out into a variety of headings and subsections which will help you construct sentences.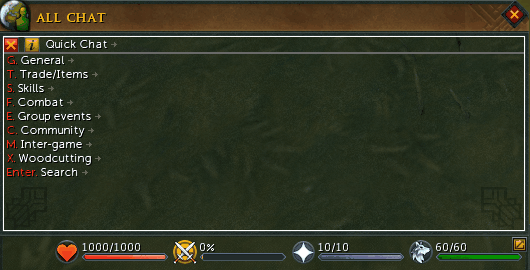 Search
Use the search option within the Quick Chat menu to find the perfect phrase.
Open the Quick Chat menu
Select 'Search', or press Enter,
Start typing, select the phrase that best matches what you'd like to say