Unable to find RuneScape Bonds
Purchased Bonds on the wrong version of RuneScape
If you've purchased a Bond from the website and can't find it in game you might have purchased the wrong type of Bond. 
Login to both versions of the game with the same login (RuneScape and Old School) 
Check your Bonds pouch
Head to our transfer bonds page where we can provide further assistance. 
Issues completing your purchase
Having trouble completing your purchase? Take a moment to go through our payment support guides to help you resolve your issue.
We also recommend checking out the information we have available on Credit Card /PayPal and Other Methods of Payment when attempting to purchase bonds or Old School Bonds.
Can't find your bonds? 
Log into the Mobile app 
Select the settings tab 
Press the Bonds pouch icon 
The below interface allowing you to transfer your bonds to your inventory will then open. You can use the arrows to the side of the words inventory to switch them between your pouch & inventory.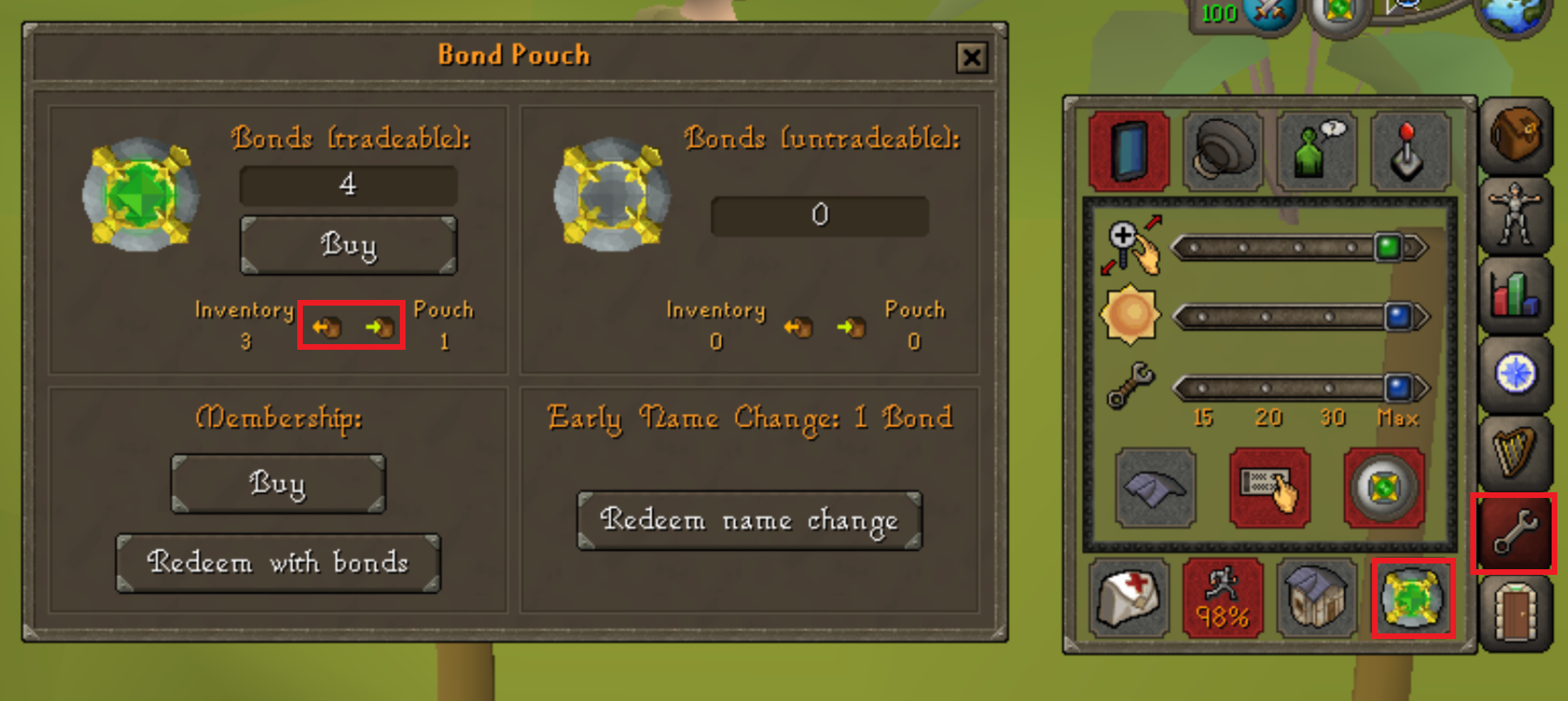 NOTE: If you can't see the Bonds pouch when following the above steps, you may need to access a computer first to allow you to use Bonds on mobile. Follow the above steps on desktop to transfer your Bond into your inventory. Once the Bonds are in your inventory, you will then be able to use them on mobile.
My purchase was successful and I still can't find my bonds?
If your Bank or Inventory are full the Bonds won't show up until there's space for them. 
Make sure you check both versions of the game, you might have bought RuneScape Bonds instead of Old School Bonds and visa versa. 
The payment may have been declined. 
If you have attempted making a payment via credit or debit card, and it didn't go through, yet you have spotted a charge from us on your bank statement, it means your payment attempt was declined by our systems. Your bank may reserve funds in advance for making the payment – please note that these would be displayed as 'processed' or 'pending' on your statement.
Don't worry, funds for payments that were declined will be automatically returned - it can take up to 5 working days for your card issuer to process and return the payment. To know if you had a failed payment, head on over to your inbox where we will always drop a message to confirm if the purchase went through or not.
Still no luck? Please get in touch and one of the billing support team will be happy to assist you further.
Response ETA: Up to 48 hours
   Check your Message Centre for a reply