Negative credit
If you have attempted to log-in to game and have received a prompt like this: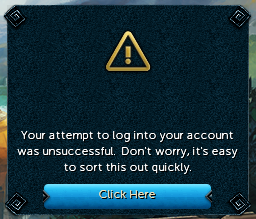 You have a negative JCoins balance on your account.
Negative JCoins balance on my account
This happens whenever previously made transactions are disputed with the payment provider (usually Bank, PayPal or in some cases, PayBySMS).
Disputed transactions result in a 'chargeback' being issued to Jagex by the payment provider.
This occurs when a customer issues a refund request with their payment provider. Whenever a chargeback is issued, Jagex incurs an additional charge from the payment provider, as well as having to refund the money back - usually for services which have already been used by the player.
This is converted into a negative Jcoin balance, which must be paid off before the account can return to play.Jagex make no profit from any transaction involving JCoins.
Clearing the negative Jcoin credit on my account
There are two ways a player can clear the negative Jcoin balance from their account:
1) Contact your payment provider and reverse the dispute (recommended)
If you have very recently disputed a payment you may be able to reverse the dispute.
Please note that only disputes made via your bank or PayPal can be reversed.
If you contact your bank and explain the situation they should be happy to reverse the dispute for you.
With PayPal you may be able to 'undo' the dispute yourself by logging onto your account, locating the transaction and following the steps prompted by PayPal.
What does this do?
By 'undoing' the dispute your account will automatically be unfrozen and the negative JCoin balance will be cleared immediately. Any membership remaining on the account will then become active again so you don't miss out on any days of Membership!
Why do you recommend this method?
It allows players to avoid additional administrative charges incurred when purchasing JCoins to clear the balance
Jagex also retain the ability to manage the transaction which allows us to assist players in future with refunds and membership transfers
Please note that if multiple charge backs have occurred the bill payer will need to reverse each dispute in order to successfully clear the balance.
2) Unable to reverse the dispute? 
If too much time has passed since the dispute was made, or you are unable to reverse the dispute, don't panic! You can clear the negative JCoin balance by purchasing the difference:
Load up RuneScape through either the website or the downloadable client and attempt to login game
You will be shown a prompt that looks like this, select 'click here'. You may be required to sign in again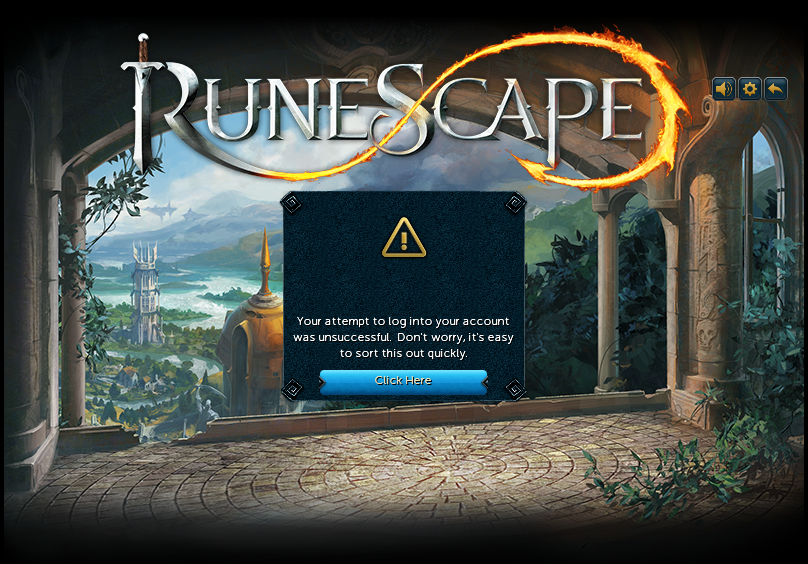 You will then be directed to a page which looks like this: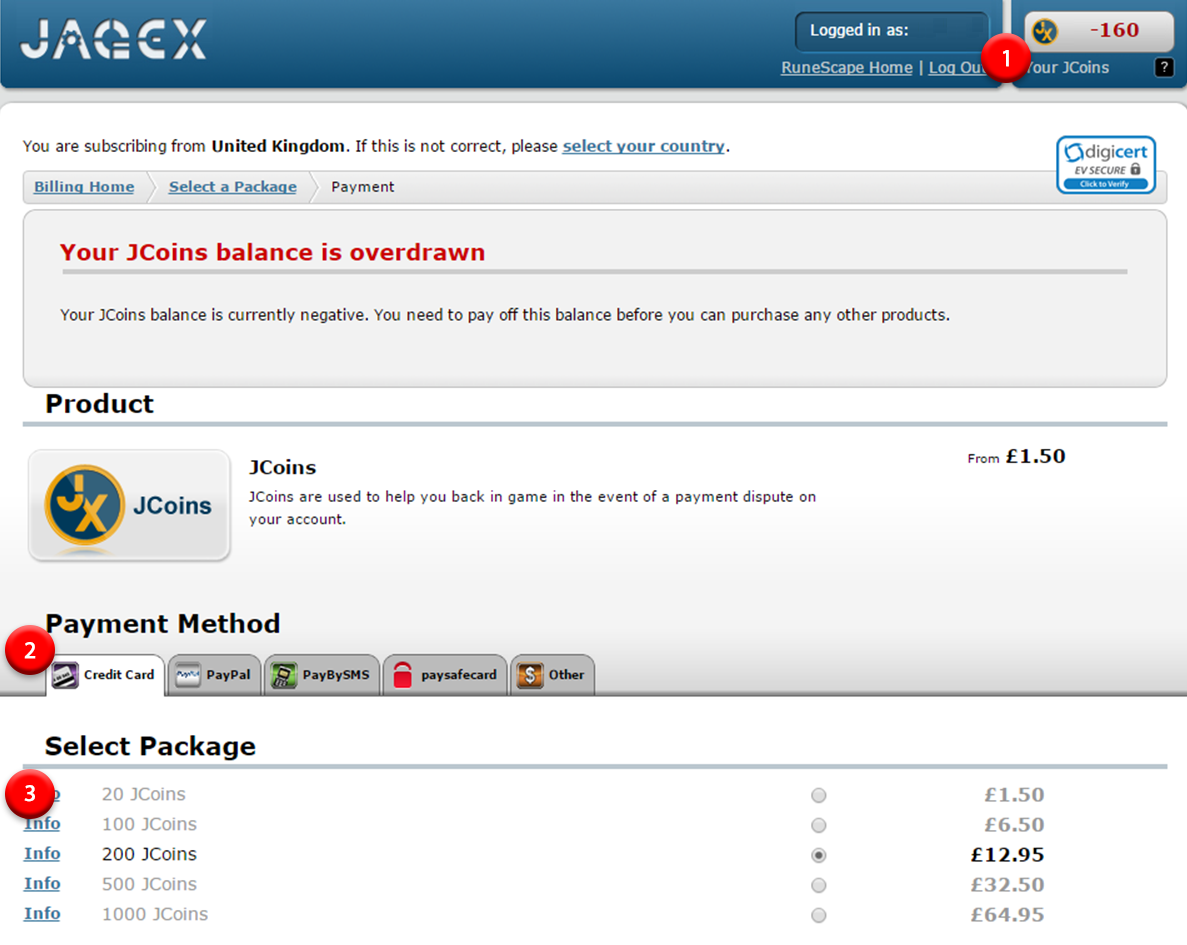 You will see the following:
1. Your JCoin balance (how much that needs to be cleared)
2. Payment options available to you
3. JCoin packages
Purchase the JCoins equal to or greater than your negative balance. Once complete your account will be unfrozen and you will be able to login to game immediately
I've just recovered my account after it was hijacked and it has negative credit.
If you have regained access to your account and are no longer able to get in game due to negative credit, we would advise you to get in touch with customer support as soon as possible so a member of the team can investigate the situation further.
Please note that we may only be able to assist further in this situation if we can confirm the negative credit was left on your account by a hijacker.