If you've logged in and don't recognise your character, progress or position in game it's likely you've logged into the wrong account, try these troubleshooting steps to find the right account.
Make sure you're using the correct login details
Double-check your login credentials:
| | |
| --- | --- |
| | |
| Creation date | How to log in |
| Created before November 2010 | Login name (your first character name) |
| Created after November 2010 | Login email |
Your login name or email will never change, even if you change your character name or registered email. Head to Forgotten login if you're unable to remember the correct login.
Log in to both games
Try logging into both RuneScape and Old School RuneScape with the same login details. One account gets you access to both version of the game.
Use the correct login method
You can log in with a login name/email or via a third party such as Google, Apple, Steam, Facebook or Game Center, so make sure you're logging in via the correct login method.
You'll log in with a login name or email if you created your account through the RuneScape website or added a login email to your third party account
You'll log in with the third party buttons if you created your account via the third party or linked your RuneScape account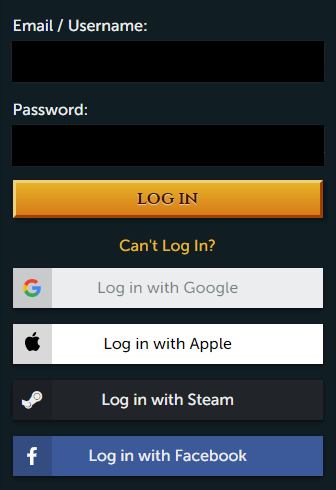 Add a login email to third party created accounts
If you're using the correct login details on mobile but you're logged into a brand new account you might have accidentally created a new third party account.
Try following these steps to add a different login email to the third party account. You should then be able to log out and back into the correct account.
Secure your account if it was hijacked
Unauthorised access may be the reason your account looks different. If you suspect that your account has been compromised, follow these steps to secure your account.